A NEW
MODEL
OF LIVING LAB
The
Drama Labs are innovative interventions in the case studies to explore
new
ways to engage with conflict productively. The Drama Labs use a mix of performative and applied drama to enable transdisciplinary engagement between researchers and theatre makers, as well as governmental, market and civil society actors. Performative drama stages social issues in a performance before an audience, while applied drama does not work towards a performance but instead uses theatrical methods to transform interaction between participants. Known for its ability to generate and transform societal dialogue, drama is usually framed as belonging to the domain of recreation or as a public engagement tool. Our Drama Labs, instead, form a key part of our research into what it means to wage conflicts productively. Participants in the Drama Labs gain access to embodied and affective means of argumentation that can be a vehicle for the expression and understanding of emotion, (dis)connections and stories that are normally left untold. The aim is to use the tension between conflicting perspectives on climate transition to generate transformative capacity. 
Drama labs description
GENERAL
What is a Drama Lab?
One of the key innovations of the CONTRA project is the Drama Lab, which is a new manifestation of the Urban Living Lab (ULL). The Drama Lab expands the current practices and methods of the ULL through knowledge and practices developed in the field of theatre and performance. In each of the consortium countries, the research team works in close collaboration with local theatre partners to develop Drama Labs that respond to the urban challenges that characterize the national case study. In many ways, ULLs and Drama Labs are quite similar. Both celebrates experimentation and creativity and addresses urban challenges through a hands-on process that brings together a range of different stakeholders. The main differences between the two, concern the general approach and goals. The ULL starts from an experimental set-up that aims to control and 'level out' real-life contingencies to deliver a new product, service or system. It is often solution-oriented, focusing on developing knowledge for practical improvement of an urban challenge and/or knowledge about the factors that hamper their solutions. Studies show that, in practice, it often falls short of representing multifaceted and contesting identities and interests, because it follows a project logic, a managerial understanding of social innovation or suffers the dominance of certain stakeholders. In contrast, the Drama Lab aims to develop knowledge for critical, embodied understanding of the conditions that shape urban challenges or hamper their solutions. Importantly, while the ULL is focused on finding (practical) solutions, the Drama Lab is geared towards increased critical understanding which may or may not lead to a productive locally shared agenda. The Drama Lab is hence founded on the belief that it is impossible to reach full consensus – a belief that, although seldom made explicit, seems to accompany solution-oriented approaches prevalent in Urban Living Labs.
NORWEGIAN DRAMA LABS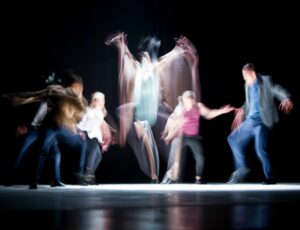 NIEUWSTEDELIJK THEATRE COMPANY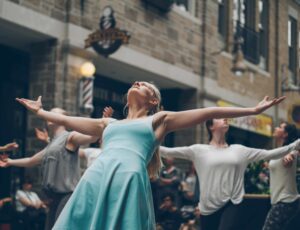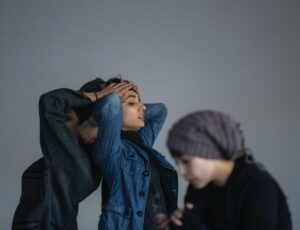 TACO VAN DIJK & MAARTEN SMIT